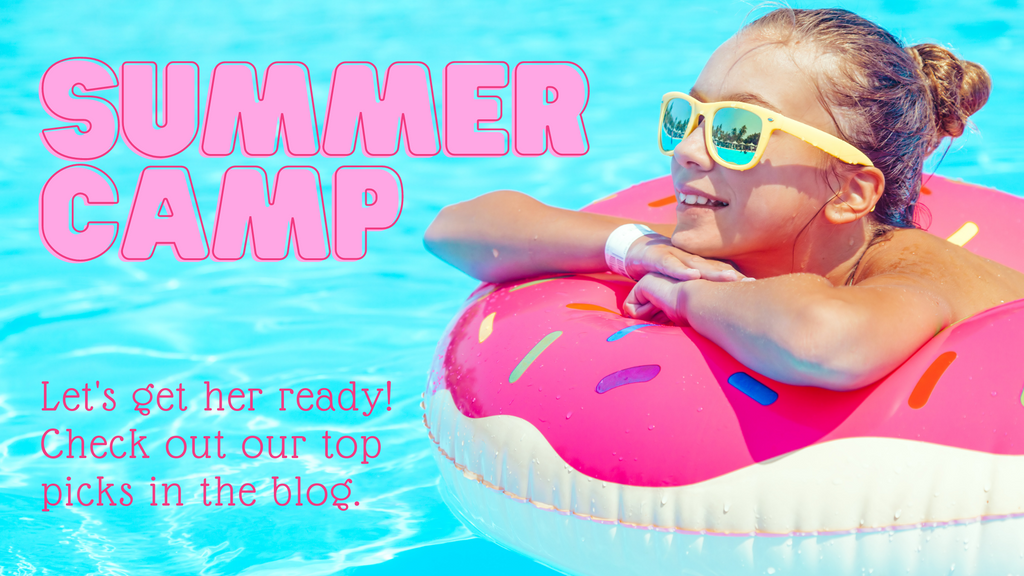 Let's make sure she packs all of the essentials for camp this summer! We know she'll love our apparel, PJs, swimwear, self-care products and so much more. Check out our top picks below:
Apparel
Waffle Stripe Tween Smiley Face Top - $34
She will smile BIG in this adorable waffle stripe top! The fit is cozy and the length is long, so it's super easy to wear with black leggings, jeans, or front tuck into a cute skort! 
Taking It Easy Daisy Tank by Sweet Soul - $34
She can take it easy with this adorable daisy tank from Sweet Soul!  
Soak Up the Sunshine Tee by Sweet Soul - $34
Soak up the sunshine in this new mineral wash tee by Sweet Soul. Pairs well with denim shorts (especially these yellow ones👇) or leggings! 
Tractr Girls Brittany Fray Hem Shorts in Yellow, Strawberry, and Blue - $49
Stretchy and comfortable, these shorts are so perfect for summer camp that she'll want every color!
Rope Drawstring Tencel Summer Shorts in Khaki, Blue, and Mint - $29
We are in love with these tencel summer shorts! Perfect to throw over her bathing suit on the way to the lake or pool. And they are oh-so-cute with a graphic tee!
Embroidered Butterfly Romper by Splendid - $52
This super cute and comfortable romper by Splendid is great for any day this summer (but exceptional for the pool or beach)! 
Lillian Tween Romper by Splendid - $50
The most comfortable romper she'll ever wear! It's great for the pool and beach or any outdoor activity.
Pajamas
Puppy Dog Plush Shorts - $24
If she's a dog lover, she'll scream for these pajama shorts! And you can send her off to camp in full comfort with the rest of the puppy dog collection from iscream®: Plush PJ Pants, Neck Pillow, Plush Blanket, Eye Mask, and Tablet Pillow.
Spray Paint Smiles Plush Shorts - $24
These spray paint smiles are too adorable. As is the rest of this collection from iscream®! If this is her vibe, she'll probably want the full set: Plush PJ Pants, Fleece Pillow, and Plush Blanket.
Swimwear
Sun Glare Tween Two Piece by Stella Cove - $56
This best-selling bikini style is now in an adorable cloud-inspired tie dye print! It is fully lined with high quality fabric, making it comfortable and durable all summer long. It's also available in a One Piece, and there's a matching Cover-Up!
Daisy One Piece by Stella Cove - $56
We are loving this easy-wear tank swimsuit in daisy print by Stella Cove… and she will, too! There's a Two Piece version, if that's more her style.
Active Swimwear
These active swimwear items have been incredibly popular, selling out almost as soon as they are added to our shop! 
The tops offer the comfort and support of her favorite sports bra, designed as a hybrid for surfing, summer camp, yoga class and all her outdoor adventures! They are fully lined with buttery soft, white luxe lining and double-banded to provide extra hold. There's also a built-in bra with removable soft cups. 
Explore the styles: Textured Malibu Cut Back Crop, Havana Cut Back Crop, Black Cut Back Crop.
The mid-rise and high-waisted bottoms allow her to embrace any water sport with confidence and look and feel amazing. They were created for comfortable, all-day wear (and full bottom coverage). 
Explore the styles: Textured Malibu Colorblock Bottom, Downtown Patch Bottom, Atlantic Stripe Mid-Rise Swim Bottom.
Browse even more in our Swim Collection!
Self-Care & Extras
Motivational Water Bottle with Straw - $28
Hitting the daily recommended water intake is sooo hard, especially for a busy girl. Keep her hydrated and motivated with this colorful water bottle!
All Smiles Cosmetic Bag - $10
She can take a smile wherever she goes with this adorable smiley face cosmetic bag! It's perfect for all of her essentials.
Decompression Pop Fidget Ball - $10
She can squeeze, pop, and bounce her stress away with this decompression fidget ball! They are waterproof, made of food grade silicone, and available in five adorable styles.
Pineapple Hooded Sunscreen Towel - $28
These sunscreen towels are made from patented UPF 50+ material, guaranteeing maximum UV protection while drying her off. Super compact and lightweight, this towel is perfect for summer camp and travel. The special knit fabric transfers heat away from the skin, keeping her cool in the hot sun. Absorbent, quick drying and sand-free, this towel is a must-have for her next adventure!
Explore other styles: Mermaid, Mermaid Tail, and Banana.
Clipboard Sets - $17/18
Do you love getting letters from her while she's at summer camp? One of these adorable clipboard sets will probably make her more likely to keep up with her correspondence.
Which is her style? Daisy Gingham or Feelin' Groovy
Shop Now!
Let's make sure your girl has everything she needs to have fun in the sun this summer! Browse the rest of our Swim Collection and Summer Camp Essentials, as well as more apparel and accessories for your tween or teen. 
If you haven't already, join our Facebook group (
💙Ruth & Naomi VIP
) to enjoy exclusive sales and live events and be the first to know about new arrivals!