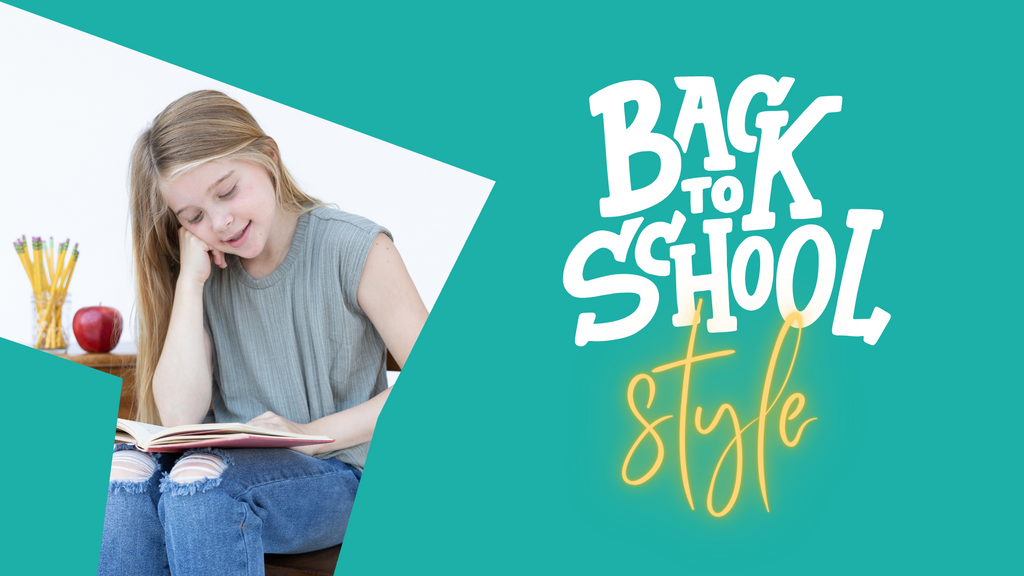 Summer is quickly leaving, and it's time to prepare your girl to go back to school. Ruth & Naomi is your one-stop shop for all her favorite clothing and accessories, in styles you'll also love! Browse our top must-have styles below:
What she's wearing:
Charlotte Corduroy Button Up Shirt in Mustard - $42
Everyone needs a classic button-up in their wardrobe! Wear it as a cover-up, by itself or even over a cropped tank, and she'll have a full look. She can roll the sleeves up if it's a little warmer out, or leave them unrolled if she's feeling a little chilly. This is perfect for every season!
Girls Warped Smiley Face Print French Terry T-Shirt - $37
With its soft terry fabric and rounded neckline, this t-shirt is not only oh-so-adorable but incredibly comfortable! She'll want to wear it every day.
Elise Ruffle Tiered Skort in Blue - $42
Yes, it's a skort, complete with shorts underneath! The smocked waistline and gauzy fabric, makes it a must have for any tween's closet. Paired with a favorite top, it's the perfect outfit for school. Since this skort runs a little big, we suggest sizing down if she's between sizes.
What she's wearing:
Rylee Ruffle Sleeve Dress in Off White Floral - $48
This floral dress is the perfect pick for any occasion! The square cut neckline is classic and timeless. 
ENewton Signature Cross Gold 3mm Bead Bracelet - $42
Made with 3mm, 14kt gold filled beads, this bracelet offers worry-free wear. This means she can sleep, shower, sweat, and play in it! Each bracelet is hand-beaded on high-performance elastic for a slight stretch to easily roll on and off her wrist with ease. We currently have three colors available, and they stack so adorably with all other bracelets from ENewton!
What she's wearing:
Loose Rib Knit Lightweight Sweater - $30
Available in three colors (Lavender, Cream, and Lemon), this sweater is perfect for those nights when it gets a little cooler and on into Fall. Pair it with all those cute skirts and jeans! 
Washed Black Woven Skirt - $30
This skort (YES, there are shorts underneath) is full of ruffles and so fun! The textured detailing is different and easy to dress up or down. Pair this with her favorite graphic tee or sweater and some sneakers for a relaxed look! It's fitted at the waist and easily slips on.
What she's wearing:
Ellie Exaggerated Cuff Top in Ivory - $34
We can't think of a better go-to back to school top! She'll take her long sleeve game to the next level with this ribbed knit top. 
Girls Smocked Ruffle Tiered Skirt in Olive - $41
In the world of wardrobe must-haves, this ruffle skirt is at the top of our list! Have a look at this adorable olive skirt with gauze fabric and short lining.
Daisy Flower Choker Necklace - $12
These are the cutest choker necklaces, complete with a lobster clasp claw and adjustable length. They are colorful and beaded which makes them super fun!
What she's wearing:
Love, Kindness, Gratitude, & Peace Sweatshirt - $38
A soft and comfy sweatshirt in teal/white tie-dye with a positive message! 
Elise Ruffle Tiered Skort in White - $42
This adorable (and super comfy) skort pairs well with any top. She'll want to wear it all the time.
Nylon Backpacks - $56
Available in three colors (Mint, Lilac, and Black), these nylon backpacks are completely customizable. She will have so much fun in the last days of summer, creating a one-of-a-kind look by adding her choice of Varsity Letter Patches and Varsity Patch Stickers!
What she's wearing:
Taylor Tiered Top in Blue - $34
This tiered top is the perfect combo of basic yet cute! Pair it with a bold pendant necklace or a beautiful floral sweater for extra flair. This top features an incredible textured knit fabric, ruffled sleeves, and a back keyhole closure.
Washed Black Moto Legging - $34
These cool-kid leggings may feature tough moto detailing, but an elastic waist and soft cotton fabric will keep her comfortable from school time to play time! 
Daisy Flower Choker Necklace - $12
In case you missed it earlier in the blog, she's going to want this adorable choker necklace!
What she's wearing:
Floral Square Neck Smocked Mini Dress - $58
It's safe to say we're obsessed with this dress. Adorable in so many ways, she'll want to wear this to every occasion! It features a square neckline with drawstring, puff sleeves, a smocked bodice, and a flared skirt.
Tess Bracelet - $32
This adorable bracelet features an ivory cross on 6.5" amazonite beads.
What she's wearing:
Vivian V Neck Dress in Orange - $48
This dress has two of the biggest trends this season: smocking and floral! The delicate floral print is beyond feminine, and the smocking across the waist is so flattering! The flutter sleeves will add a little bit of movement to it, and the tiering at the bottom is simply adorable. This dress runs a bit small, so we suggest sizing up.
Braided Headband - $28
Available in two colors (Navy and Flax), this handmade accessory is perfect to elevate any outfit! Stretchable, durable, and comfortable, this headband is suitable for tweens and teens alike. The fabric is braided and fixed to a high quality hard plastic 1-inch headband covered in the same fabric. The ends of this headband are handsewn. 
Savvy Bracelet - $32
This beautiful little gold beaded boho bracelet with white stars, a slide closure, and tassels is six inches and adjustable.
Shop Now!
What will she be wearing back to school? Browse the rest of our Back 2 School Collection. And don't forget the Accessories!
If you haven't already, join our Facebook group (
💙Ruth & Naomi VIP
) to enjoy exclusive sales and live events and be the first to know about new arrivals!