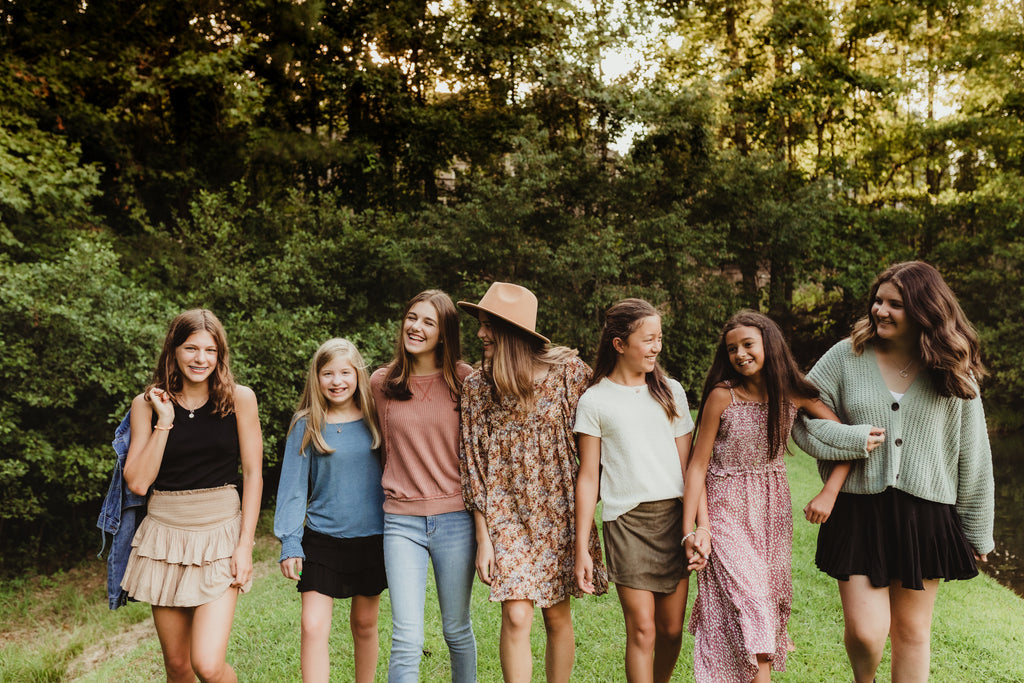 Those "perfect" family photos often look effortless, with cute coordinated outfits and adorable smiles. But so much planning—and stress—goes on in the background that it's a wonder some moms can manage to plaster a smile onto their faces when the camera clicks. We can't make your kids sit still or quiet the grumbling, but (with the help of some other local businesses) we can ease some of the burden of picking out a coordinated family wardrobe that reflects everyone's personalities.
One of the most common questions photographers get asked is "What should we wear?" Two things to consider are 1) the location of the photoshoot and 2) the look you want to achieve (e.g., casual versus elegant). With those considerations in mind, we recommend choosing clothing for your family within a certain color scheme or in neutral shades, as you and your family should be the highlight of the photo and not your clothes.
Let's take a look at some wardrobe color schemes that would work well for that "perfect" Fall family photo:
Neutrals
With a neutral color palette, your family's apparel can still look beautiful while blending into any background. By sticking to whites, browns and denim, you can achieve this look with a wide variety of clothing choices.
Here are some examples from local stores:
WOMEN
Emma Midi Dress from Linen & Flax
MEN
Quinn Work Shirt from Clothes Horse
Tip: Pair with khakis or denim
TWEEN GIRLS
Allison Crumpled Textured Tee from Ruth & Naomi
*Pair with bottoms in denim or neutral shades.
TEEN GIRLS
Regina Ruffle Hem Teen Skort from Ruth & Naomi
*Pair with a white or neutral top. (Or add a pop of color here!)
For a fun (yet neutral) pattern:
TWEEN GIRLS
Ella Floral Trumpet Sleeve Dress from Ruth & Naomi
TEEN GIRLS
Kenzie Floral Printed Dress from Ruth & Naomi
BOYS
Bring out his personality with pops of fun in neutral tones, like pairing these shorts with a plain tee:
Hear Me Roar shorts from Dot Dot Smile
*Shop this brand locally for babies, toddlers, and kids with Amy Davidovich at the Boutique Space within the NEW Painted Tree (4651 Woodstock Rd., Roswell, GA).
Fall Colors
Nothing says fall like shades of red, orange, gold and brown!
WOMEN
Kaitlyn Wrap Midi Dress from Linen & Flax
MEN
Joseph Abboud Apple Red Polo from Men's Warehouse
TWEEN GIRL
Girls Linen Look Ruffled Sleeved Top from Ruth & Naomi
TEEN GIRL
Annie Dress in Ginger from Ruth & Naomi
BOYS / KIDS / BABY
Glazed Ginger Unisex Joggers from Dot Dot Smile
Red Rocks Twirl Skort from Dot Dot Smile
Waves of Grain Smocked Dress from Dot Dot Smile
Add a Pop of Color
If you have chosen to go with a neutral palette, consider adding a fun pop of color in a couple pieces of apparel and/or through accessories! Blues and purples work well with this option.
Accessorize
Whether you want your accessories to blend in with your color palette or add some color to your photo, let them be a way for everyone to express their personality.
For you ladies, local mom Alyssa Dupree creates some incredible custom jewelry!
For your tween and teen girls, browse our hair accessories and jewelry.
Book Your Photoshoot
Once you and your family have chosen your color palette (and the apparel to match it), book your Fall mini session with local photographer, Elizabeth Buergler.
We can't wait to see your "perfect" family photos. Feel free to tag us on social media (@shopruthandnaomi) on Facebook or Instagram.