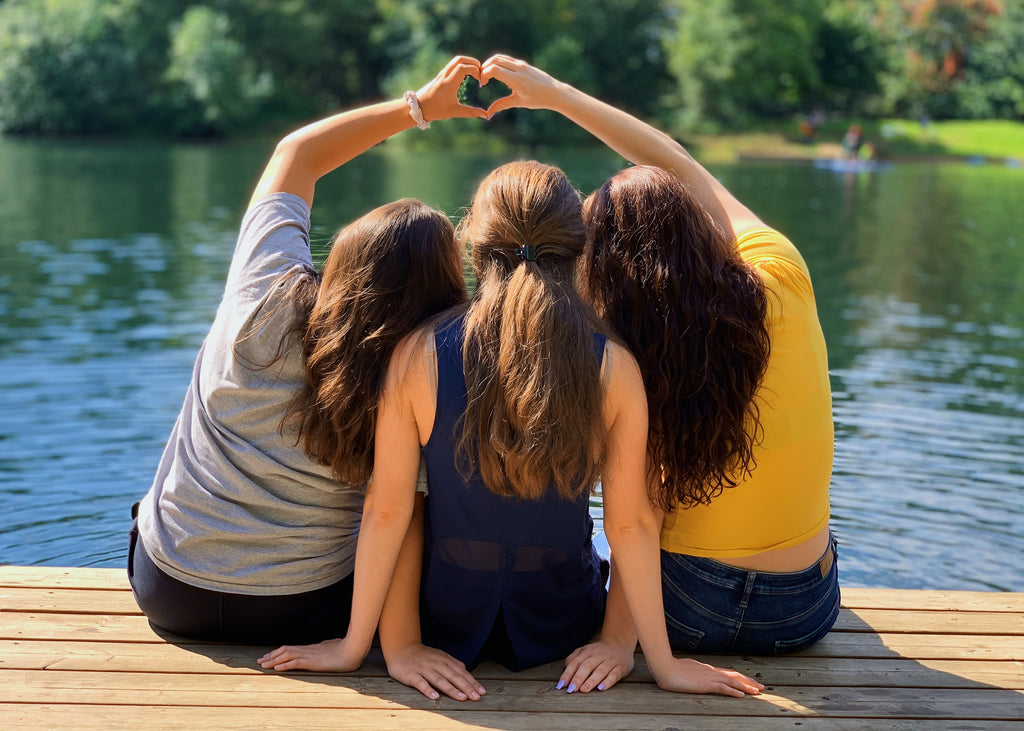 Summer Camp Essentials
If your girl is going to camp this summer (or on a summer vacation), let's make sure she packs all of the essentials. We know she'll love our swimsuits, towels, beach bags, face masks, skin care products and so much more! Check out our top picks below, and browse our Summer Camp & Beach Essentials.
Swimsuits
Coral Stripe Braided Strap Bikini
A swimsuit full of sunshine! This bright rainbow striped 2pc bikini set has braided adjustable straps at the shoulders. The swim top comes in sizes 12 and 14 features removable cups and the bottoms are a full cut and fully lined. All Shade Critters sun protective clothing fabric blocks 98% of harmful UV rays, a UPF 50+ rating.
It's all rainbows and sun protection in this two piece UPF 50+ tankini set. This tween girls fashion tankini is periwinkle with a pretty rainbow stripe going across the front. The periwinkle tie bottoms have a rainbow going down one side. The rainbow is light pink, citron, lilac, green, and metallic silver. All Shade Critters sun protective clothing fabric blocks 98% of harmful UV rays, a UPF 50+ rating.
Check out tons of other swimsuit styles HERE!
Cover Ups
Launa Spiral Tie Dye Dress by Z Supply
Spiral tie dye is here! The Launa Spiral Tie Dye Dress is an easy-to-wear, oversized tee dress that comes with a crewneck and slight drop shoulder short sleeve that is made from a breathable cotton slub fabric. It feels breezy and looks cute, especially with white sneakers or as a swim cover up! 
This adorably cute navy tie dye romper is a perfect after-swim cover-up, with its loose and incredible soft fabric.
Sunscreen Towels
These next generation towels are a must-have for any trip to the water! The Original Sunscreen Towel is made from patented UPF 50+ material, guaranteeing maximum UV protection while drying you off. It's special knit fabric transfers heat away from her skin, keeping her cool and comfortable in the hot sun. 
Super compact and lightweight

Absorbent and quick drying

Sand-repelling!

Chemical-free

Full size: 28.5" x 58.5"
Check out the cool colors and patterns:
Pastel Tie Dye, Mint Blue Zebra, Mermaid Hooded, Banana Hooded, Rainbow Hooded, and MORE!
Comfort
Fleece Drawstring Cut Off Shorts
These are the perfect shorts for Spring and Summer! Wear them to bed or take them to the beach. They make a great swim coverup and the coziest shorts to wear to camp! 
Plush Shorts
She will sleep (and lounge) in comfort on those warm summer nights in these cozy plush shorts! Which style fits her personality: Puppy Love, Sundae Funday, or Pastel Tie Dye?
Plush Blankets
A plush blanket will keep her warm and cozy while away from home. Here are two styles she will love: Puppy Love and Sundae Funday!
This corgi furry neck pillow makes the cutest travel companion! This sweet pup is made of the softest faux fur, making snuggling into your seat with him not unlike snuggling with a real corgi. A great gift for dog lovers and frequent fliers, this travel pillow is a winner! 
Accessories
She'll be catching waves this summer in these fruity fresh tie dye Taffy Girl swim goggles. Neapolitan Swirl is the perfect balance of sleek and sparkle. These goggles offer a variety of features proving they are the real deal:
Material Type 100% silicone latex-free

Lens Type uv protection anti-fog

Sizing 5 years and up

Includes hard protective case
Strange Things lurking from beneath the ripples. These traditionally shaped swim goggles are made with silicone spike accents on the gasket finished with a shell embossed strap.
Material Type 100% silicone latex-free

Lens Type uv protection anti-fog

Sizing 3 years and up

Includes hard protective case

adjustable nose piece
Adorable clip on pouch or purse. Perfect to clip on her beach bag or take out shopping! 
She has the cell phone... now it's time for the cool bag! A must have to go hang with friends and to protect her phone from water and sand at the beach! She can wear it as a purse or cross body. 
She will look classy and a little sassy with this what-a-girl-wants inflatable beach bag. The beach may be for relaxing but that doesn't mean there's no room for glam!
Mermaid & narwhal charms

6 pieces pack with 1 color

Includes hand pump

Size: 14" width x 11" height 
Good Vibes Travel Pouch with Pom Pom
The cutest little pouch to keep all of her treasures. She can store her mask, money, phone, scrunchies or whatever her heart desires!
With a rainbow-colored sequin tie dye design, this bag also features a clear, easy-to-clean glitter overlay, an inside zipper pocket and an adjustable, removable shoulder strap. Stellar in every way, it will become her go-to for sleepovers and quick getaways.
Face Masks
Don't forget to pack the face masks! We have washable and fun face masks in multiple sizes and styles, so your girl can be comfortable, stylish and protected: 2-6X, Tween, and Teen / Adult.
Sunscreen
Which would she prefer?
Sea Star Sparkle Pink Glamingo or Beach Gypsy Rose Gold
She can protect her skin and feel amazing! This luxurious formula features SPF 30+ broad spectrum UVA/UVB protection and 80 minutes of water resistance, with eco-friendly biodegradable glitter. Infused with natural antioxidants and essential nutrients, PABA and Paraben free.
After Sun
Just Beachy Totally Fun After Sun
THE MOST LUXURIOUS BODY WASH & HEAVENLY BUBBLE BATH EVER!
We've got skin nourishing Vitamin E, soothing botanicals Chamomile, Blueberry & Pomegranate Extract whipped up with moisturizing softness from Aloe, Argan Oil, Coconut Oil, Shea Butter and a dash of shimmery fabulousness making this the best bottle of bubbles your body ever loved. 
Shop Now!
Let's make sure your girl has everything she needs to have fun in the sun this summer, while also ensuring the essentials she needs are on hand. Browse the rest of our Swim collection and Summer Camp & Beach essentials. We also have tons of summer fashion styles for your tween or teen.